The content of this page is the content that was relevant at the end of Freebuilders Classic. (also known as Freebuilders 1.0, Freebuilders Old, or Freebuilders of Yore).
Welcome to the Freebuilders wikia!
| | |
| --- | --- |
| | Website: www.freebuilders.org......IP: mc.freebuilders.org......Map: map.freebuilders.org......Teamspeak: entity.typefrag.com |
Freebuilders is a server community of mature Minecraft players. It has been running since late 2013.
This wikia is used for documentation of the server's players, public resources, settlements and more. Feel free to contribute information!
Public Resources

Places that are open to the community to assign in gathering resources, such as food and building material.
Settlements
From tiny outposts to bustling hubs, from quaint towns to sprawling cities, these are the little parts of the world where Freebuilders have settled down and made a home for themselves.
Players

Notable players on the server.
Spawn
See Spawn for more information.
The Spawn is the starting point for all new members of Freebuilders, as well as the centre of the map. Many notable and historic buildings surround this area.
Nether Hub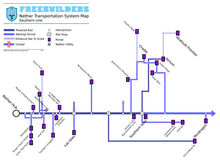 See
Nether Hub
.
The Nether Hub is a massive railway system in the Nether used to get around the server's map much, much more quickly, due to the fact that 1 block in the Nether is equivalent to 8 blocks in the Overworld. The Hub was originally built by The_sizzler and DOMOHEAD, with the colored compass being added by Battlecastt and ChocletBean.
Points of Interest
There are more than just dwellings and machinations in the Freebuilders world! These are general places to hang out, compete, or just plain socialize!
Call for Hands
Got a project that needs assistance? Short on a few supplies? Need a little help? Ask for it here!
| Need Material | Need Building Assistance | Need Advising |
| --- | --- | --- |
| | Lode is looking for people to assist with the destruction of a jungle and creation of park infastructure in Unity Gardens. | |
Community content is available under
CC-BY-SA
unless otherwise noted.